75 cheap, clever gifts that are 10x more impressive than what you usually give
Time to level up your present game.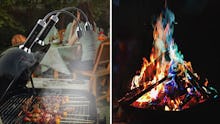 Amazon
We may receive a portion of sales if you purchase a product through a link in this article.
When it comes to gifting, it's the thought that counts... but I'd be lying if I didn't get a deep feeling of satisfaction when someone truly loves the thing I've picked out for them. Plus, coming up with clever, impressive gifts for your loved ones doesn't have to cost a lot of money — so why not get them something they'll really enjoy?
I've rounded up a ton of present ideas for every person in your life — family member, friend, co-worker, you name it. Know someone who's a superstar in the kitchen? Give them this stainless steel wok pan to take their stir fry game to the next level. Or, for the person who's always cold, I've included cozy gifts such as this ultra-soft fleece throw blanket and this fun-sized space heater. Below, you'll find a bunch of cool, wallet-friendly gifts that are going to blow your friends and family away.