45 aggravating, common problems you didn't realize have cheap, easy solutions
Your life is about to get a lot less irritating.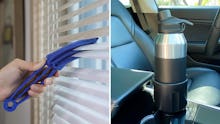 We may receive a portion of sales if you purchase a product through a link in this article.
Have you ever stubbed your toe or lost your Wi-Fi signal and all of a sudden come to grips with how tiny problems can send you over that razor-thin edge? You're not alone. Annoying issues can be infuriating, no matter how inconsequential. But while your internet strength is between you and your service provider, many of your other problems have cheap, easy solutions. Whether you're looking for clever kitchen gadgets to make meal prep go by more quickly, or clever cleaning tools you can score on a budget, you'll find fixes to so many of your everyday aggravations here .