Amazon's selling a ton of these strange things with near-perfect reviews
Thousands and thousands of people approve.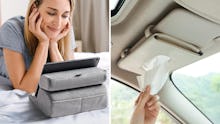 We may receive a portion of sales if you purchase a product through a link in this article.
There's nothing like indulging in a bit of online shopping after a long day, but it's even better when you find something strange you've always wanted that's backed with thousands of great reviews from customers just like you. When you get that green flag from multiple buyers, you'll feel much more confident about your purchase.
Amazon's got a ton of unique items with impressive reviews, making it a fantastic place to shop. Keep scrolling, and you'll discover a myriad of amazing things that have already been fully vetted and approved.