This science-backed (and celebrity-loved) skin care line just launched a hair loss supplement
98% of trial participants saw a decrease in hair damage after 12 weeks.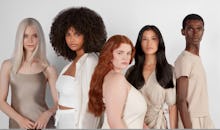 We may receive a portion of sales if you purchase a product through a link in this article.
A lot of products are touted for helping with hair loss, but when it comes to treatments with clinical feedback? Those are few and far between. That's what makes the Augustinus Bader Hair Revitalizing Complex so special, and its active ingredients have been proven effective in the brand's double-blind clinical tests.
FAST FACTS:
Oral supplement that aims to minimize hair loss and support new growth
Brand founded by a scientist, physician, and stem-cell biology expert
Proven effective by double-blind, placebo-controlled trials
Contains bio-optimized active ingredients
The clinical findings
The Augustinus Bader Hair Revitalizing Complex is an oral supplement that was created to support new hair growth for people of all ages and with all types of hair, with key ingredients aim to minimize shedding, strengthen follicles, boost shine, and encourage new growth.
After creating its supplement, the brand conducted double-blind, placebo-controlled trials to prove its effectiveness. Trials were conducted on people between 18 and 65 years of age and with all types of hair. After 12 weeks of use, participants taking the Hair Revitalizing Complex experienced the following results:
A 56% increase in hair count (as opposed to 2% taking the placebo)
A 100% increase in shine (as opposed to 6% taking the placebo
A 98% decrease in hair damage (as opposed to 2% taking the placebo)
100%+ less frizz and more scalp and hair hydration (as opposed to 3% or less taking the placebo)
How do you use it?
The Hair Revitalizing Complex is an oral supplement that you take once a day — three capsules at a time — with plenty of water. They can be taken with food or on an empty stomach. The brand recommends that you take the supplement for at least three consecutive months in order to see optimal results.
Who shouldn't take the Hair Revitalizing Complex?
The formula is vegan, gluten-free, and designed to work for people of all ages and genders. That said, those who are taking coumarin anticoagulants (certain anti-blood-clotting medications) should not take the Hair Revitalizing Complex. And if you're on any other type of medication or you have a medical condition, you should consult a medical professional first.
Those who are pregnant or nursing can use the supplement, but should also speak to a qualified physician before starting treatment.
What shoppers are saying
The brand doesn't share its reviewer feedback on its site, but these are a few comments from verified buyers who have tried the Hair Revitalizing Complex first-hand:
"I started really seeing results around 2.5 months in, now my hair is strong, healthy and shiny. I also have lots of baby hairs growing in around the edge of my hairline."
Another raved: "Best hair vitamin I have ever used. Even before I noticed results within my follicles, I noticed how positively it affected my skin! I have been using this product for a few months now and it truly is a next level product. Try it, stick with it, you will love it!"
How much does it cost?
The Hair Revitalizing Complex comes in a recyclable glass jar that contains 90 capsules (a 30-day supply) for $130, which is definitely pricey.
That said, there are a few different ways to save. First, you can opt for Auto-Replenish, which will sign you up for automatic monthly shipments and reduce the price to $104, saving you more than $20 per order.
You can also opt for the Hair Revitalizing Complex Refill, which comes in a recyclable packet rather than the glass jar. The refill costs $98 for a single packet and $78.40 when you subscribe to Auto-Replenish. If you subscribe, you can change the delivery frequency or cancel at any time, plus you receive loyalty points on every purchase.
Delivery is free no matter where you are in the world, and Augustinus Bader participates in a "You Shop, We Donate" initiative, which allows you to donate 5% of your order value to a charity that matters to you.
tl;dr
In short, if you've tried everything to combat hair loss and nothing seems to be working, give the science-backed Augustinus Bader Hair Revitalizing Complex a shot. While it's definitely an investment, its placebo-controlled trials show significant promise that it may be the last hair loss treatment you ever need.