The 7 best antiperspirant deodorants for men
We only recommend products we love and that we think you will, too. We may receive a portion of sales from products purchased from this article, which was written by our Commerce team.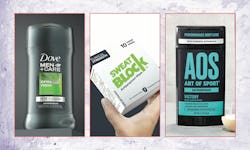 Mic/Amazon
To keep your underarms dry, the best antiperspirant deodorants for men (and everyone else) contain aluminum-based compounds to block sweat glands and body odor. Most antiperspirant deodorants are also scented to help mask unwanted smells, but you can forgo the fragrance if you're sensitive. Plus, they're available in sticks, gels, and other formulas, so you can choose your preferred application.
The active ingredients in antiperspirants are aluminum-based compounds that help prevent glands from releasing sweat, and they're included in each of the products below. Despite speculation about aluminum being linked to cancer, there isn't enough scientific evidence to link aluminum-based deodorants with negative health effects, and the concentrations used in antiperspirants are regulated by the Food and Drug Administration.
If your skin is sensitive, however, opt for antiperspirant that's free from synthetic fragrances. You might also want to avoid deodorants that contain alcohol, which can dry out sensitive skin.
Though what makes the best antiperspirant deodorant often comes down to personal preferences, below you'll find options in a variety of formulas that'll help prevent sweaty pits and body odor — including ones that go on clear to avoid deodorant marks on your clothes.