The 5 best deodorants for men who sweat a lot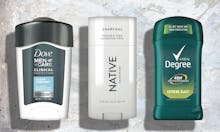 Amazon / Bustle
Whether it's hot outside, you're working out, or you're just going about your regular sweaty day, the best deodorants for men who sweat a lot can keep you dry and smelling fresh.
Not all deodorants have the power to keep you dry, as many focus on simply fighting odors rather than reducing sweat. These products typically have antibacterial properties to keep odor-causing bacteria at bay and fragrance to cover up any lingering smells. If you want to actually reduce the amount of sweat your underarms produce, you're usually going to need an antiperspirant.
Most over-the-counter antiperspirants rely on aluminum-based compounds to block your sweat pores and keep your underarms dry. Two common active ingredients in OTC antiperspirants are aluminum zirconium tetrachlorohydrex gly, which can be found in concentrations of up to 20%, and aluminum chloride, which can be found in concentrations of up to 15%. While many people use these types of antiperspirants without a problem, it's always best to do a patch test with any new skin care product to make sure it doesn't cause an irritation.
While some studies have linked aluminum-based antiperspirants to breast cancer and Alzheimer's, there simply isn't sufficient scientific evidence to determine that aluminum products have a negative impact on your health. It's possible that aluminum-based antiperspirant will change the makeup of your underarm bacteria, though — so if that's something you want to avoid, you can opt for an aluminum-free, natural deodorant, which uses ingredients like baking soda, magnesium, and charcoal to neutralize odors and absorb moisture. Just know that a natural deodorant won't keep you from sweating.
Of course, sweating can be a symptom of a more serious medical issue, so you should always consult your doctor if you're experiencing unusual or excessive sweating. But if you're simply a guy with perpetually damp pits and you'd like to put a stop to it, read on for the best deodorant and antiperspirant products for men who sweat a lot.
We only recommend products we love and that we think you will, too. We may receive a portion of sales from products purchased from this article, which was written by our Commerce team.