The 8 best camping string lights
We only recommend products we love and that we think you will, too. We may receive a portion of sales from products purchased from this article, which was written by our Commerce team.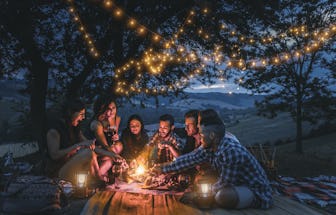 oneinchpunch/Shutterstock
String lights can be a fun way to provide your campsite with light while adding to the ambiance. When shopping for the best camping string lights, consider your campsite's power sources and whether battery-powered, solar-powered, or electric lights make the most sense. Also consider the length of the lights, how much rain they might be exposed to, and if you have any preferences for how they look or twinkle.
Camping string lights are powered by various sources and the best option will depend on what kind of camping you're doing. On trips where a power outlet isn't available to you, battery-powered, solar-powered, or string lights with a USB plug paired with a power bank will likely be best. (Most power banks are sold separately, so I've included an option on this list as well.) But if you're in a camper or bringing a generator or large power station, you can expand your search to include string lights that plug into an AC outlet — however, electric lights are usually a bit heavier than battery-powered ones.
Water resistance — which is typically denoted via IP rating — is also worth considering. The first digit of an IP rating measures the device's dust resistance from zero to six, and the second digit measures water resistance from zero to nine. For example, string lights with a rating of IP54 are resistant to dust and water splashes and should stand up to moderate rain, while lights with higher IP water resistance ratings will be even more protected against stronger storms.
Finally, string lights vary greatly in length, color, and functionality, and all of these factors are dependent on where you plan to display them and your personal preferences. For maximum coverage, look for string lights that come in long strands or ones that allow you to connect multiple strands. And for maximum fun, consider string lights with different lighting modes like blinking and dimming, or multicolored or color-changing lights. There are also globe lights, Edison bulbs, fairy lights, rope lights, and strings with novelty-shaped bulbs, but keep in mind that some lights will be bulkier (and harder to transport) than others.
Read on for the best camping string lights to help illuminate your spot the next time you enjoy the great outdoors.
1. The solar fairy lights
Power source: Solar
Water resistance: IP55
Length: 78.7 feet; cannot connect multiple strands
Weight: 7.8 ounces
These single-color fairy lights come in a long strand so you can decorate your whole campsite, and the included solar panel on an adjustable stake ensures they'll be usable even without access to an outlet. The manufacturer doesn't specify how long they'll take to charge, but full sunlight will result in the most efficient charge. Once fully charged, the lights will last for 10 hours and they turn on automatically when it's dark. These have eight lighting modes and come in four colors: warm white, white, multicolor, and blue.
One reviewer wrote: "Not super bright to light your way, but a great solar accent light around tent or dining fly when camping! Sturdy wire line. Holds charge a long time!"
2. The color-changing globe lights
Power source: 3 AA batteries or USB
Water resistance: IP65
Length: 15 feet; cannot connect multiple strands
Weight: 13.8 ounces
These string lights have frosted globes that can change between 18 colors and seven lighting modes with an included remote. Plus, there is a timer you can set for up to eight hours. Power them up with three AA batteries (not included) for 25 to 45 hours of runtime depending on the batteries and lighting mode (according to the brand), or plug them into a power bank via a USB cord.
One reviewer wrote: "Bright and very nice colors. Hung well in my tent and is a fun addition to my camping gear."
3. The string light & power bank combo
Power source: Solar or USB
Water resistance: No IP rating available, but the manual notes they're suitable for some rain
Length: 18 feet; cannot connect multiple strands
Weight: 11.3 ounces
These node string lights are a light source and portable power source all in one, making them a good option for those who are camping off the grid or just aren't keen on carrying batteries. The power comes from the solar panel on the attached spool-like storage case or from charging via USB. The case also serves as a 2,000 milliampere-hour (mAh) USB power bank for devices you'd like to charge. While a 2,000 mAh power bank likely won't be enough to fully charge an iPhone (an iPhone X would need at least 5,000 mAh for a full charge, for example), it can be helpful in a pinch. The manual notes that the lights take six to eight hours to charge fully via USB or about 16 hours via solar power. The lights have a 15-hour runtime on a full battery and are available in a multicolor version with eight lighting modes or in warm white with four lighting modes.
One reviewer wrote: "We love these string lights! They pack up small and are easy to unfurl and hang up. Being able to charge them with the sun or USB gives flexibility and lets us keep using them even after a few cloudy days. The different brightness settings are fun and allow you to control how long you want them to last vs. how much you want to light up your campsite. Solar has come a long way and these are delightful. We have since purchased a couple more sets to have around camp."
4. The AC-powered rope lights
Power source: AC
Water resistance: IP68 (lights) and IP65 (power adapter)
Length: 50 feet; can connect up to 7 strands
Weight: 4.3 pounds
If you're looking to cover a lot of your campsite in lights and you're in a camper, have a power station, or otherwise have access to a traditional plug, consider these AC-powered rope lights. The 50-foot spool length and ability to connect up to seven strands means you could have up to 350 feet of lights on one strand if you so desire. Each strand is a single color, and three color options are available: white, warm white, and blue. Amazon reviewers loved that they come on a spool, making them easier to store and roll out for use.
One reviewer wrote: "Bought this for camping. The fact it came on a spool was worth the money. Made it so easy to put up the lights and take them down. The lights are beautiful, and it really lights up the camp site at night. Highly recommended."
5. The star-shaped solar lights
Power source: Solar
Water resistance: IP65
Length: 40 feet; cannot connect multiple strands
Weight: 14.4 ounces
If you want some lights in a fun shape, these star lights on a 40-foot strand could be what you're looking for. They're warm white, have eight lighting modes, and are powered by an included adjustable solar panel on a stake. The manufacturer reports that they'll last eight to 12 hours on a single charge. It isn't specified how long the lights will take to charge, but place your solar panel in as much direct sun as possible for best results.
One reviewer wrote: "Great solar lights! I bought them to decorate our campsite and tent while camping. They add the perfect amount of ambiance without being too glitzy. I like the options to change the lights from blinking to fade to solid lights at different speeds. We received many compliments at the campground! The only negative is how easily they tangle due to the star shapes. We took an old piece of cardboard and wrapped them up to solve the tangled problem."
6. The Edison bulb lights
Power source: AC
Water resistance: IP65
Length: 48 feet; can connect up to 40 strands
Weight: 3.36 pounds
For a sophisticated back porch feel at your camper or plug–equipped campsite, try these AC-powered Edison bulb bistro lights. They only have one lighting mode but can be connected end to end with up to 40 strands if you really want to deck out your site. The bulbs are made from shatterproof plastic with an IP65 dust- and water-resistance rating to endure the outdoor elements.
One reviewer wrote: "I strung these around a large canopy during a week of camping. They looked attractive and put out enough light to read by. One night was wet and stormy and winds whipped the canopy around quite a bit, but the lights came through unscathed."
7. The color-changing fairy lights
Power source: 3 AA batteries or USB
Water resistance: IP65
Length: 16.5 feet (featured) or 40 feet; cannot connect multiple strands
Weight: 5 ounces
These fairy lights are suspended on a thin silver wire and feature 16 color options, eight lighting modes, four multicolor modes, and a remote to control it all. The 16.5-foot version featured above is powered by either three AA batteries or a power bank via USB, making them a great fit for tent campers without a power source (though, the manufacturer doesn't mention how long the lights will run for on a single battery charge, and batteries are not included). The lights are also available in a 40-foot version powered by an AC plug.
One reviewer wrote: "Got these to provide some easy red light for my "room" while deployed. The red light is essential. I haven't had a chance to test the water proofing, but it looks legit. It changes colors and modes with the single button on the device, so you would have some different lighting options even if you lost the remote. I like the different brightness settings, and the ability to be powered by a USB cord or batteries is awesome. There's no easy immediate off button on the device, but I'm powering it by USB so I just unplug it. Looking forward to using these for camping, and I like them better than any of the other 2 or 3 fairy lights I've purchased in the past."
8. The lantern-shaped lights
Power source: 3 AA batteries
Water resistance: IP not specified
Length: 6 feet; cannot connect multiple strands
Weight: 12.7 ounces with batteries
These little lights shaped like classic Coleman lanterns are just plain fun, and they put out a surprisingly great amount of light, according to reviewers. They're powered by three AA batteries (not included), which the manufacturer notes will run the lights for 20 hours. The simple lights come in a classic white color option and don't have any special lighting modes. They don't have a water resistance rating (and reviewers were split on how well they handled moisture), so it's probably best to use these in dry areas.
One reviewer wrote: "These lights are a nice touch to our camp setup. They look sharp with the classic Coleman shape. But what surprised me is how BRIGHT they are. I originally wanted these for ambience...but these lights are quite bright, and light up the area under the canopy quite well...not enough to be obnoxious, but enough to function without the need for a flashlight. A bit pricey for what they are, but I [feel] like they are worth it."
Also helpful: A water-resistant battery pack
To keep your USB-powered string lights and other devices powered while you're camping, consider this water-resistant battery pack. With a 6,700 mAh battery and two USB-A output ports, it can offer up to 36 hours of power to keep string lights turned on and perhaps top off your phone battery. Plus, it has a rubberized, water-resistant exterior with an IP67 rating, so it'll withstand rainy weather and dust. A built-in carabiner makes it easy to clip onto your backpack, too. It weighs just 6.7 ounces and, according to reviewers, comes with a USB-C to USB-A cord for charging.
One reviewer wrote: "This is a decent little battery. As for charging power and battery life I can charge my iPhone 8 twice from 10% to 100% with this battery. Great for traveling, camping, hiking, fishing, or even if you just want to charge your phone without being attached to the wall."