The 6 best dandruff shampoos for men
We only recommend products we love and that we think you will, too. We may receive a portion of sales from products purchased from this article, which was written by our Commerce team.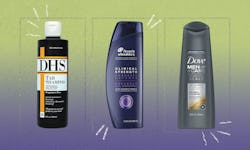 Mic/Amazon
The skin flakes and itchy, red scalp that are telltale signs of seborrheic dermatitis (a.k.a. dandruff) are typically caused by a yeast type of fungus. "A yeast found on the skin called malassezia can contribute to the inflammatory response in seborrhea. This yeast feeds on sebum and therefore thrives in oily areas," Dr. Hadley King, a board-certified dermatologist in New York City, explains to Mic. This is why the best dandruff shampoos for men (or anyone, really) contain powerful antimicrobial and antifungal ingredients and help manage symptoms like itchiness and inflammation — and there are options below that anyone can use.
"We cannot cure seborrheic dermatitis, but we can manage it and there are several [over-the-counter] shampoo ingredients that can be helpful," Dr. King says, noting that medicated ingredients like ketoconazole, pyrithione zinc, and selenium sulfide all have antifungal and anti-inflammatory properties. Pyrithione zinc is "particularly gentle and well-suited for sensitive skin," Dr. King adds. King also recommends some non-medicated ingredients, like tea tree oil and coal tar, though keep in mind that coal tar can discolor light hair and stain nails, skin, and clothing. And if you have a buildup of flakes? "Salicylic acid may be useful when used in conjunction with other treatments. Its main benefit is that it helps to reduce scaling on the scalp," Dr. King offers. You may want to try different dandruff shampoos to find the active ingredient that works best for you.
Finally, Dr. King notes that dandruff flareups can be caused by a number of reasons, including seasonal changes and stress, and recommends seeing your dermatologist if over-the-counter treatments aren't sufficient. With that in mind, read on for the best dandruff shampoos — all of which contain ingredients proven to soothe itchy, flaky scalps.
Expert:
Dr. Hadley King, board-certified dermatologist in New York City
Study referenced:
Fischer, T., Hipler, U., & Elsner, P. (2007). Effect of caffeine and testosterone on the proliferation of human hair folliclesin vitro. International Journal Of Dermatology, 46(1), 27-35. https://doi.org/10.1111/j.1365-4632.2007.03119.x