The 6 best under-desk heaters
We only recommend products we love and that we think you will, too. We may receive a portion of sales from products purchased from this article, which was written by our Commerce team.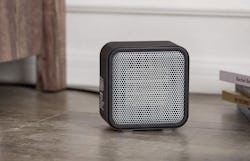 Amazon
Whether it's the result of chilly weather or a too-cold office, you might find yourself looking for a reliable way to warm up at your desk. The best under-desk heaters are compact and generate enough warmth for your work area without wasting energy heating up space you aren't using. They also have safety features, like built-in protection against overheating and tipping over, and come in designs that'll blend into your workspace.
First, consider how much wattage you'll need to heat your desk. According to Consumer Reports, most personal space heaters have an output between 200 and 900 watts. A high-wattage heater will have a larger heating capacity and can cover more space, but if you're bringing it to work, a low-watt option can help you avoid tripping the office circuit breaker.
Each of the heaters below comes equipped with safety features like a cool-touch exterior and automatic shutoff, and they're quiet so you won't be disturbed while working. Most under-desk options are ceramic heaters, a type of convection heater with heated internal plates that pass warmth onto the surrounding air. If you want to warm up even faster, some convection heaters use forced air to help circulate the heat. And while every heater below will help you get warm, if your feet get extra frigid, you might want an ergonomic foot warmer that will provide targeted heat to your toes.
Now that you have a better idea of what to look for, here are some of the best under-desk heaters that you can use around your workspace when it gets cold.