These drink drops let you create instant cocktails or mocktails anywhere — & they're perfect for easy summer sipping
Just add seltzer and (optional) spirits.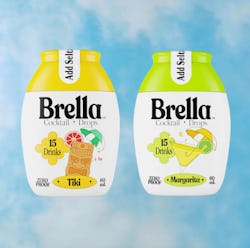 We may receive a portion of sales if you purchase a product through a link in this article.
Kicking back outdoors with an adult beverage can be a great way to while away a summer evening, but concocting complicated drinks isn't for everyone — and becomes even trickier if you're not near a kitchen or stocked home bar. Brella cocktail drops are designed for exactly these types of situations; the brand's pocket-size squeeze bottles pack the flavor of some of your favorite cocktails — all that's left for you to do is add seltzer or soda and (if you'd like) alcohol.
With its cocktail drops, Brella uses concentrated flavors to recreate classic drinks, like margaritas. The 2-ounce squeeze bottles require only alcohol and plain soda water or seltzer to complete each recipe. Or you can skip the booze for some low-effort mocktails. Each bottle makes 15 drinks, and the drops cut down significantly on the number of ingredients you'd need to gather for more complex drink recipes. (If — like me — you've ever thought about making a mai tai or zombie, there's a good chance you changed your mind in record time after realizing you'd have to hunt down and pay for orgeat and apricot liquor.) The drops themselves are non-alcoholic, vegan, gluten free, and sugar free.
The compact packaging is useful for anyone with limited kitchen or bar cart space, but it also lends itself to outdoor excursions. Hauling multiple ingredients to a campsite or lake hang is impractical at best, but the packable size of these drops opens up some possibilities. (Just be sure to abide by any laws or location-specific rules on open containers and alcohol consumption.)
As of now, Brella's cocktail drops are available in two varieties: margarita and tiki. The margarita flavor is an interesting twist on the classic drink, combining the flavors of agave with calamansi (a citrus primarily grown in the Philippines) to add the tartness and acidity usually accomplished by limes. Although you may not be getting the nuance you'd find with fresh-squeezed citrus and homemade simple syrup, the spin on the standard flavor profile arguably makes it a worthy alternative to standard margarita mixes you'd find in stores.
The tiki is a mash-up of tropical fruit and spiced rum flavoring, creating an island-inspired cocktail that's ideal if you want to channel the feeling of being on a beach vacation, without having to leave your backyard.
The flavor selection is obviously limited at this point, but Brella is planning to release options for mules, mojitos, and "aperitifs" (a take on Negronis — calling Stanley Tucci) in the near future. Also, keep in mind that since you'll need to add soda or seltzer to either flavor, you'll be getting a sparkling cocktail.
Of course, as with any alcoholic beverage, you'll want to imbibe responsibly. With that said, Brella's cocktail drops might be the easy-breezy cocktail upgrade your summer needs.