75 cheap, clever gifts for women that are 10x more impressive than what you usually give
Get ready to take your gifting to the next level.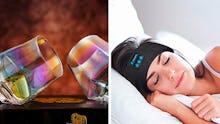 Amazon
We may receive a portion of sales if you purchase a product through a link in this article.
I always get a little annoyed with myself when I buy and wrap up another generic gift. We all do it sometimes because, it's hard to find something amazing for the women in your life without spending your entire paycheck. So, I found 75 gifts that are 10 times more impressive than your go-to scented candle or butterfly-printed tea towel.
Every idea on this list is super clever but still just as cheap as whatever gift you usually grab. Plus, there are still plenty of soothing spa-like options and cool home goods to choose from if you just really love the calming candle or kitschy kitchen towel.