70 cheap things on Amazon that'll impress the hell out of people
These gifts will come in handy for any occasion.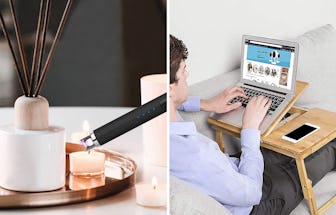 Amazon
We may receive a portion of sales if you purchase a product through a link in this article.
There is no shortage of brilliant products on Amazon that make life exponentially easier and more fun — I could probably spend hours browsing through the multitudes of categories in search of things to add to my cart that I know will spice up the daily grind or handle some weird menial task that I never feel like doing myself. Even better is its tendency towards low prices on items you know you'll love that are backed by thousands of reviews you can trust. I never have to worry about breaking the bank or expectation versus reality when I press that yellow "proceed to checkout" button in my cart.
With so many underground hits and cult favorites to choose from, though, it can feel impossible to know where to begin. That's why I'm highlighting these 70 amazing Amazon products that are totally impressive (and won't cost you an arm and a leg) whether you're shopping for a really great gift or just want something fun delivered to your doorstep for no particular reason.
From genius kitchenware and unexpected Bluetooth-compatible items to the multitaskers that make working from home easy and enjoyable, you're guaranteed to find something here that you'll be dying to score. And, with nearly 100 ideas that run the gamut, they also make rock-solid gifts for every sort of person in your life. Check out these 70 affordable Amazon finds, and don't forget to recycle the inevitable pileup of cardboard boxes.
Editor's note: The only thing we love more than finding a great deal is spreading the word about it. That's why we've added a selection of our favorite holiday deals from Amazon below. They're only available for a limited time, so act fast. Happy shopping!