35 clever, cheap things that make being outside way less of a pain in the butt
Mosquitoes, sunburns, and sand have met their match.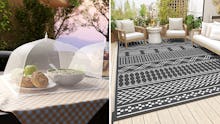 Amazon
We may receive a portion of sales if you purchase a product through a link in this article.
I love nature — in theory. I enjoy the pretty flowers, the warmth of the sunshine, and the sound of the breeze through the trees. But there are a few things I could do without, namely the mosquitoes, how quickly the warmth of the sun turns into a sunburn, and the moss that grows all over my outdoor cushions. Fortunately, the internet has tons of brilliant things that help make the great outdoors significantly greater.
This season, I'm on a personal mission to make my backyard as comfortable as possible. If you, too, want to minimize nature's inconveniences with clever, cheap things that improve your outdoor experience, these Amazon products are a great place to start.