Clever things for your home that are selling out fast on Amazon
These little upgrades are getting a lotta love.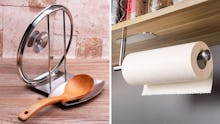 We may receive a portion of sales if you purchase a product through a link in this article.
I've found all of the clever things for your home that are selling out fast on Amazon. Hear me out — I'm not talking about products that seem clever, but you'll never actually use them. No — these clever things are all about the simple details, like pillar candles that won't drip all over your kitchen table.
This list has clever things you'll actually use every single day and items that make your home much more organized and comfortable, like a sleek wire organizer for your ironing supplies. It's a minimalist shelf that holds onto your ironing board and your iron. It even has a spot to fit your iron's handle and wire for a super clean look.
This list is also about finding things like a matching baking dish set that looks modern, a machine-washable throw blanket with an extra-cozy side, or a stick-on doorbell with tons of customizable tones. There's even a stainless steel ice bucket that keeps all of the excess water away from your fresh ice.
Trust me, you'll actually find tons of uses for these clever things on this list, and you better act fast, because people are scooping up these genius home items on Amazon.