Clever things that are gaining a massive following on Amazon
From a tiny waffle maker to a cleaning gel that's kinda magical, these products are pretty smart.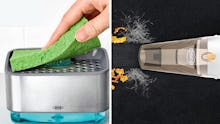 We may receive a portion of sales if you purchase a product through a link in this article.
This list is packed with a bunch of different things, but I promise they all have something in common: they're super clever. Whether it's an article of functional clothing, a unique solution to a common kitchen problem, or a cleaning product that makes your life so much easier, you need these clever products in your life.
How do I know you need these things in your life? Well, I made sure to only add the clever things that are gaining a massive following on Amazon. That way, this list is even more reliable when you're searching for an easy, clever fix, whether you're searching for the perfect bubble-shaped ice tray a teeth-cleaning dog toy that won't get covered in bite marks, or a pack of microwave lids that collapse to fit in your kitchen cabinets.
So, whenever you're feeling like you need a clever upgrade, fun new gadget, or product that'll make your life easier or more fun, simply go through this list — other Amazon shoppers definitely are.