Contractors say these clever things on Amazon make your home look better with almost no effort
Genius ways to hide eyesores and get cozy.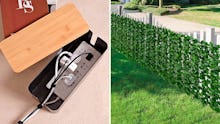 Amazon
We may receive a portion of sales if you purchase a product through a link in this article.
Keeping a home nice can often feel like an uphill battle. Fortunately, not every improvement needs to be that expensive or time-consuming. There are plenty of cheap, clever home upgrades you can tackle in less than an hour — especially if you're an Amazon customer. That's why Mic got in touch with experts: designers, decorators, and professional organizers.
Since their job is to make spaces look as good as possible without cutting into their profits, they know all about home-improvement hacks. Scroll on for clever ways to make your space look way better with these low-effort tricks.