Contractors say you're making your home look cheap if you aren't doing any of these things
When it comes to quick home improvements, we asked the experts.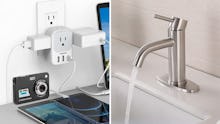 Amazon
We may receive a portion of sales if you purchase a product through a link in this article.
Maintaining a home is not only expensive but also requires strong attention to detail. From the upkeep of fresh paint to decluttering your space, there are a ton of surprising ways to elevate your home on a budget. And, who better to give us home advice than expert contractors with years of professional experience?
Ahead, you'll learn incredible tips and home hacks that will prevent your home from looking cheap and outdated. Keep scrolling to discover 30 minor things that make a big impact when you want to take your humble abode to the next level.