65 cool things on Amazon that are legitimately brilliant
These finds are all total game-changers to your routine.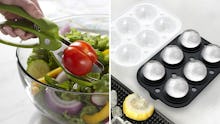 We may receive a portion of sales if you purchase a product through a link in this article.
If you're looking for unique items that will make your daily life easier, you might want to check Amazon. Every day, new products are added that are legitimately brilliant. These are the game-changing items that you wondered how you ever lived without — the equivalent to the portable phone charger you bring to every concert and the car accessories that make road trips much less of a hassle. And, the best part about cool products is that they also make incredible gifts for friends and family.
From kitchen appliances to tech gadgets that are totally genius, here are the latest amazing discoveries Amazon shoppers have bought and loved.