Designers & contractors say your home could be so much better if you tried any of these 40 clever things
Upgrade your space with these expert-approved tips.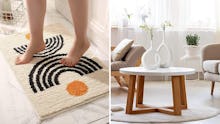 Amazon
We may receive a portion of sales if you purchase a product through a link in this article.
If you've ever walked into someone's home and wondered how they got it to look so nice, chances are they've implemented a few designer-approved tricks and tips that make a huge difference in the look and feel of a home. In the list below, I've rounded up some advice from the experts and some clever home upgrades that'll help you create a dreamier space. Plus, they're all quick and easy projects that don't cost a ton of cash.