Designers say these ugly problems around your house can actually be fixed for under $35
You'll wish you knew these quick & affordable pro secrets sooner.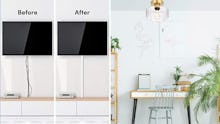 We may receive a portion of sales if you purchase a product through a link in this article.
Putting together a home that you're proud of is no easy task. If you find yourself questioning design choices and wondering how to deal with eyesores on a budget, it's time to make some of these upgrades that will make every room look better. I've collected advice from professional interior design experts that will help you transform your space — all with items costing less than $35. There's something for every room, so scroll on for small updates that will have a huge impact.