Designers say these eyesores around your home are actually easy to fix — here's how
The experts give their advice on the products that'll easily upgrade your space.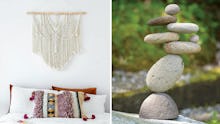 We may receive a portion of sales if you purchase a product through a link in this article.
The secret to keeping your home neat and organized may very well be in the details. From shoes tucked haphazardly under the bed to stains on the carpet, the little things can make all the difference. That's why Mic has enlisted a team of the top designers in the game to help you fix the eyesores that could be keeping your place from reaching its full potential.