Designers say these things make your home look dated — here are the cheap upgrades they recommend instead
Making your home modern can be as easy as changing the sheets.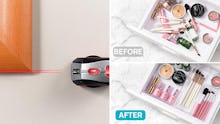 Amazon
We may receive a portion of sales if you purchase a product through a link in this article.
Sometimes I find myself getting a little too comfortable with the dated details in my home. I'll spot an older decor piece I never get around to swapping it out, or I'll know my kitchen could use some kind of upgrade, but it's hard to spot exactly what it needs. It happens. Even if you like to keep up with your home decor, it's easy to ignore a few dated details and honestly — just get used to things.
So, I found a bunch of designers to tell me the exact things that make your home look dated, plus all of their cheap and easy upgrades to help modernize any space.