Designers say you can make your home look 10x better with any of these cheap things on Amazon
High-end upgrades, low-end prices.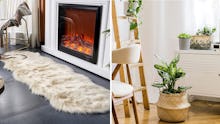 Amazon
We may receive a portion of sales if you purchase a product through a link in this article.
The way your home looks can play a huge part in how you feel — and a thoughtfully designed space allows you to unwind and enjoy your downtime. If you're not sure where to start, I've rounded up some wallet-friendly design hacks that come recommended by design experts.
If a full reno is too intimidating, try making small changes. For example, revamp your throw pillows with these abstract pillow covers or infuse your kitchen or bathroom with warm earth tones courtesy of these cotton tea towels. Designers agree that these on-trend home products will liven up your space, without costing you a fortune.