Designers say you're making your home look outdated if you aren't doing any of these things
Bring your home into the modern era with these fixes & swaps.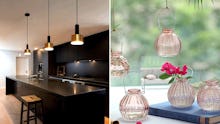 We may receive a portion of sales if you purchase a product through a link in this article.
Almost every day, I run across a ton of home projects that claim to be super easy and necessary for a trendy home. Honestly, I'm going to need a bit more than a social media post before I buy some paint and attempt to completely redo my kitchen cabinets. So, I reached out to designers and experts to see what is truly making homes look outdated — and how to give them a little bit of love.
So, I've organized all of their problems with chic solutions into a list with all of the products you'll need for these super easy updates. Simply reach for a set of bold throw pillow covers to match your sofa's upholstery, a vibrant rug to add color to a room instead of painting your walls, or tuck real plants next to your favorite decor pieces. Of course, there's also the versatile paint you'll need if you do want to paint those cabinets.
You may not even know that the room you're sitting in right now is a little tired, but with some expert advice, you'll be on your way to a stylish, refreshed home soon.