Dolphins were spotted in the Bronx River, and it's a good thing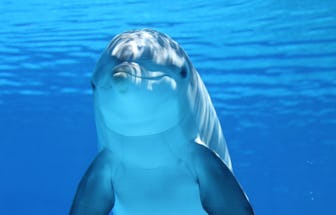 MajH ;) / 500px/500Px Plus/Getty Images
Way better than Sea World
On Jan. 19, two dolphins were spotted swimming through the Bronx River, and by all accounts, they seemed happy and healthy as can be. The New York City Department of Parks and Recreation proudly addressed the dolphin's presence as proof of the city's continued work in improving the health of its waterways. I don't know about you, but I'm 100% here for these happy dolphins, and a healthy community environment.
News of the frolicking river visitors first made waves when passerby Nico Banko spotted them and shared a video on Instagram. The NYC parks department verified the sighting soon after. "It's true — dolphins were spotted in the Bronx River this week," they wrote on Instagram and Twitter, along with Banko's video. "This is great news — it shows that the decades-long effort to restore the river as a healthy habitat is working. We believe these dolphins naturally found their way to the river in search of fish."
In a second tweet, the Parks Department encouraged people to welcome these adorable swimmers, while remembering that the dolphins are protected marine mammals — which means attempting to feed, pet, or touch them is strictly forbidden. "Make sure that they're comfortable during their visit by giving them space and not disturbing them," the tweet read. "We restock the Bronx River with alewife and other fish annually to restore the river." It's been an ongoing effort; the department even re-shared a 2018 video that showed the release of 400 alewife into the river.
For years, the parks department and other environmental conservation groups across the U.S. have been working to rehabilitate natural waterways using aquatic vegetation and oyster beds to fight pollution, as WIRED reported last year. Natural wildlife has been decimated amid the climate crisis and decades of pollution, but efforts to restore keystone natural plants and organisms — like aquatic grasses, oysters, and mussels — have dramatically improved health and quality of habitats like the Bronx River.
Also this week, dolphins were spotted swimming nearby in New York's Whale Creek Tributary. While it's unclear if those were the same dolphins that also ventured into the Bronx River, it does seem to be equally good news. Willis Elkins, who works at the Newtown Creek Alliance, told The Bronx News 12 that there's also been a concerted effort to clean up that waterway. Sense a theme?
"We've come a long way across multiple decades of environmental improvement, water quality cleaning, better environmental stewardship, better relations, all of which helps the overall environment and then leads to recovery of these systems," Wildlife Conservation Society scientist Howard Rosenbaum told Gothamist in a Jan. 19 interview about the Bronx River spotting. "I think it's just great that these things are happening and hopefully the overall environmental recovery for these urban waterways continues, and we continue to see marine wildlife — their habitats, their prey — flourish."
In other words: Nature is healing.