Dope things for your home that seem expensive but are actually so freaking cheap on Amazon
Genius ways to give your home an elevated feel without the elevated price tag.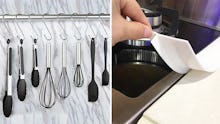 Amazon
We may receive a portion of sales if you purchase a product through a link in this article.
Whether you own or rent, making your space a place you love to spend time in doesn't have to cost a lot — and no one ever has to know. My favorite way to give my house an elevated feel without the elevated price tag? Cheap home finds on Amazon only look expensive.
Some of these items mimic high-end brands and perform just as well for a fraction of the price, according to reviewers. Others help you organize your space or protect your stuff so you don't have to worry about pricy repairs down the line. Finally, some of them help you do some DIY upgrades easily. No matter what you go with, they'll all save you money when it comes to creating a functional, stylish home.