The federal government says doctors still have to perform emergency abortions
The Biden administration sadly had to remind health care providers that not saving lives is still breaking the law, regardless of which state you're in.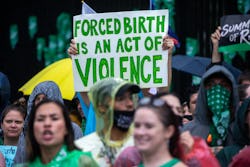 Anadolu Agency/Anadolu Agency/Getty Images
In the weeks since Roe v. Wade was reversed, Americans have had to grapple with the reality that we could lose a lot of rights we've started to take for granted, like being able to exercise bodily autonomy. The list of places where you can get a legal abortion is getting shorter, as Republican-led states eagerly revive trigger laws and enact abortion bans — some of which are so cruel that they don't even make exceptions for life-saving procedures. But this week, in a surreal statement, the Biden administration reminded doctors that emergency abortions are protected by federal law, regardless of the state.
It may seem like common sense that an emergency physician would be duty-bound to perform an abortion if a pregnant person's life is in danger due to the pregnancy — regardless of Roe — but since Roe was overturned, doctors and administrators have been confused and fearful of prosecution. On Monday, the Biden administration issued an announcement to clarify that abortions performs in the service of saving pregnant peoples' lives is still protected by federal law.
"Today, in no uncertain terms, we are reinforcing that we expect providers to continue offering these services, and that federal law preempts state abortion bans when needed for emergency care," Department of Health and Human Services (HHS) Secretary Xavier Becerra said in a news release on Monday. "Under the law, no matter where you live, women have the right to emergency care -- including abortion care." This announcement followed President Biden's executive order on reproductive health issued last week.
Becerra said in the statement that the Emergency Medical Treatment and Active Labor Act (EMTALA) protects doctors and other health care providers and the actions they take in order to protect the lives of pregnant people under emergency care. While many abortions are elective, it's also a procedure that is sometimes necessary. HHS cited examples like ectopic pregnancy and complications of miscarriages as conditions under which stabilizing treatment could include abortion.
Becerra also stated that the federal statute supersedes any state laws that ban abortion without exceptions "for the life or health of the pregnant person" — meaning hospitals that don't follow EMTLA will be subject to fines and potentially lose their agreements with Medicaid and Medicare. Any physician who violates EMTALA will be subject to civil penalties and could face a $119,942 fine per violation, CNN reported.
For what it's worth, HHS seems serious about making sure that the lives of pregnant people are protected. "We are making enforcement a priority," a senior HHS officer said in a briefing, as reported by CNN. Becerra also wrote in the HHS statement, "We will continue to leverage all available resources at HHS to make sure women can access the life-saving care they need. Health care must be between a patient and their doctor, not a politician."