This viral office chair is the most comfortable I've ever tried — and it's finally available in the U.S.
I'm talking 11 points of adjustment for a tailor-made feel.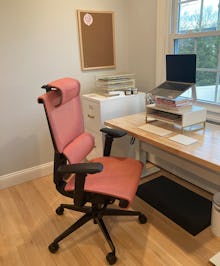 Danielle Kraese/Mic
We may receive a portion of sales if you purchase a product through a link in this article.
I've worked from home full time for nearly three years, and in that time my prone-to-pain back and I have cycled through countless contraptions in an attempt to make sitting a more bearable — if not ache-free — experience. My living room looks like a haunted warehouse where disappointing office furniture goes to die. I truly thought I had seen and sat in it all, until I recently got a chance to try the ErgoTune Supreme, a sleek mesh chair with 11 adjustment points. I'm reporting live on the scene from said chair, and I can honestly say it has changed everything for me.
What is the ErgoTune Supreme?
Fast facts:
Ergonomic office chair with 11 points of adjustability
Features breathable hybrid-mesh material
Clear instruction materials make it easy to assemble
Comes with a 12-year warranty
Available in charcoal black, coral red, and aqua blue
Also available with expert assembly (for an extra $60 per chair)
The ErgoTune Supreme has been a bestseller in Singapore and Australia, where it was first introduced. The ergonomic chair even went viral on TikTok last year. And now, it's finally available in the U.S. through Amazon.
Notable features include four-way customizability for armrests; a 3-D headrest with adjustable tilt, height, and depth; adjustable lumbar support with multiple tension levels; adjustable backrest height; and an optional recline of up to 136 degrees. Basically, everything can be modified to work with the wide array of bodies out there.
My first impressions
My chair arrived unassembled, in a giant box weighing almost 70 pounds (which I've found to be pretty average for an ergonomic office chair). While the box itself was unwieldy due to the weight, I was able to handle each individual piece on my own (and for context, the only lifting I do is my lifting phone to my face to watch TikToks).
The chair comes with a huge, full-color illustrated poster to follow along with, but there's also a QR code that takes you to a step-by-step video, so you have multiple resources on your side. The hardware is neatly packaged and separated by step, so there's no need for guessing games. Once empty, the box is meant to double as a workbench to make certain assembly steps more seamless.
Between all of these helpful touches, I was feeling confident (read: cocky), and I assembled the chair by myself in 35 minutes. That said, it really is a two-person task — even better if neither of those people are you (for an extra $60, you can get expert assembly with your purchase). All in all, it was one of the best assembly experiences I've had with any furniture, and definitely the best for any office chair.
In terms of looks, it has a sleek profile I really like. I initially wasn't sure about the coral red color I went with, but I quickly came to love the cheerful pop of color in my workspace. The ErgoTune also comes in a soothing light blue as well as your classic black.
Using the ErgoTune Supreme
I knew the ErgoTune had 11 points of adjustability, but I didn't realize the magnitude of this until I actually started playing around with mine.
To be honest, the endless customization options were a little overwhelming at first. But ErgoTune provides a nicely designed booklet that walks you through all the possible calibrations, including guidance on the ideal sitting position for most people. There are also suggestions for how to calibrate the chair for different tasks, like focused computer work, writing notes by hand, and watching videos.
By the time my chair was ready to use, I was already impressed but still afraid to get my hopes up. Sitting at a desk all day isn't the origin of my chronic back pain and stiffness (and if you're experiencing unusual or debilitating symptoms in this area, it's a good idea to check in with a doctor in case you have any underlying issues). But my aches are definitely made much, much worse by working at a computer for long stretches (aka doing my job).
The main problem I've run into with chairs of the past is the seat depth. I'm 5-foot-2, and most chair seats don't seem built to work with shorter legs; I either have to sit all the way back with my feet dangling awkwardly or all the way forward without any lower back support.
With my ErgoTune, I was able to adjust the seat depth so my feet are planted firmly on the ground with my legs at a 90-degree angle, which is what experts recommend. I also adjusted the tension of the lumbar support so it isn't too firm for me. Already, I could see the upgrade in support and comfort compared to my old chair.
It took some continual tweaks over the first few days of use, but once I got everything how I liked it, I couldn't believe the difference the ErgoTune Supreme made. It's been two weeks, and for the first time ever, I'm able to work at my desk all day (instead of eventually relocating to the couch or bed so I can work on a heating pad). Of course, I do still get up every hour or so to move around, and I take quick stretch breaks throughout the day.
The drawbacks
For all of the ErgoTune's benefits, I did find two minor inconveniences. My previous chair-of-choice had faux leather material that hair and lint slid right off of, which was helpful for me, a person who sheds like a Siberian husky. While the hybrid-mesh material of the ErgoTune Supreme is supportive and breathable, it holds on to all my fallen hair for dear life — a minor quibble, but I will need to invest in a good lint roller to keep nearby.
Also, some of the components are so easy to adjust that I initially found myself moving them around by accident. This was occurring mostly with the extremely versatile armrests — but I noticed it's happening less and less the more I use the chair, which makes me think I just needed to get used to sitting in it. Either way, I would still take this over fixed armrests any day.
What other reviewers are saying
"This is a solidly built, incredibly customizable, very comfortable chair. At this price point I think its a good deal, especially if you spend a lot of time sitting like I do." — Cheyne W.
"Such a great chair [...] The assembly instruction was so clear and the packing done in a way that made the assembly smoother. I especially love the lumbar support and the headrest. Highly recommended!!" — Jun K.
"Great, breathable chair. Good adjustments. I never would have thought adjustable arm rests would be so nice." — Jordi H.
"Such a comfortable chair that's perfect for working from home. The colour is beautiful and was easy to assemble too. Couldn't be happier with my new purchase!" — Carey
Final takeaway
At $549, I think the price for this is pretty fair for what you're getting — though it will be prohibitive for some people. That said, if you only have the emotional strength and budget to try one more desk chair, the ErgoTune Supreme is definitely the one to go with.