40 expensive everyday problems that can actually be fixed for under $35
We only recommend products we love and that we think you will, too. We may receive a portion of sales from products purchased from this article, which was written by our Commerce team.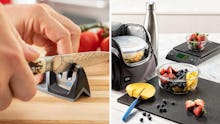 Mic/Amazon
We're somehow all convinced life has annoyances and little everyday problems. Honestly, that's just not the case. We don't have to use up our paychecks at the dry cleaner. We definitely don't need to buy coffee from a barista every single day in order to have high-quality caffeine before work. And we don't need to live with scratched up furniture.
Instead, it's time to take a look through this list. It has all of your daily hassles on it, and I promise they can all be fixed for under $35. Probably the most expensive problem on this list is one that I know we all deal with: dry cleaning. There's a laundry kit on this list that has everything you need to wash those "dry clean only" clothes. It even takes care of stained clothes, and all of the dry cleaning magic happens in your dryer.
This list even has everyday issues that are easy to overlook, like scratching your countertop when you clean or your wrecking your non-stick pan while you cook. You haven't ruined your counter, and you definitely don't need to go out and buy a new pan. Just get the gentle sponges and soft silicone spatulas on the list.
Now, we all know not to spend money on expensive fixes for these daily problems. While we're at it — let's pour a cup of homemade coffee with our new pour-over brewer and let everyone else know about these affordable fixes.