The before and afters of this gentle, acne-fighting toner are pretty amazing
We only recommend products we love and that we think you will, too. We may receive a portion of sales from products purchased from this article, which was written by our Commerce team.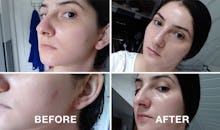 If your skin is prone to breakouts, you're probably very careful about the things you put on it, which is why the Facetheory Saliatica 2% BHA Toner T6, which is designed to exfoliate, balance, clear, and (of course) tone — all without creating additional skin-related concerns or irritation. For that reason, it's suitable for most skin types, even sensitive skin.
To those of us who have tried everything but to no avail (like me), that probably seems like a tall order to fill. This one, however, surprised me. Keep reading to check out both the science behind the product and how real customers have reacted to it.
But how can one skin care product cover so many bases at once? It starts with both beta and alpha hydroxy acids for multiple levels of exfoliation, but it also features centella asiatica, which is a hero ingredient for soothing and nourishing skin. But the key to this formula is as much about what's not in it. The formula is unscented, and it's free of alcohol, parabens, silicones, and mineral oil. Plus, it's vegan and cruelty-free.
FAST FACTS
Suitable for almost any type of skin, but especially great for acne-prone and combination
Exfoliates, balances, and clears
Free of alcohol, parabens, silicones, and mineral oil
Unscented
Vegan and cruelty-free
Rinse-free and doesn't leave a residue
Costs only $16 for 6.8 fluid ounces
4.5-star rating
What happened when I tried Facetheory's toner:
I'll be honest, I didn't have high hopes for this. I have combination skin that's easily irritated, and when I've used chemical exfoliants in the past, the results weren't ideal: The dry areas often got even drier and flakier, and the oily areas started to break out. It turns out, however, that this multitasking toner from Facetheory is the exception.
I started applying it once a day about three weeks ago. Since then, I've worked my way up to two daily applications without any issues whatsoever. The positive results have definitely surprised me. Instead of looking flaky in some spots and oily in others, my face looks (and feels) a lot more balanced. Makeup goes on more smoothly, and I find I need less of it thanks to fewer blackheads and a brighter, rosier complexion. I've even had fewer breakouts, including the hormonal blemishes that usually pop up around my jaw during my cycle. Needless to say, this has earned a spot in my minimalist skin-care routine, and I'll be purchasing another bottle when this one runs out.
How does Facetheory's toner work?
This toner is designed to do four things: First, it exfoliates dead skin cells to unblock congested pores. Second, it helps balance your skin's microbiome (the naturally occurring beneficial bacteria that lives on and protects your skin) to regulate acne-causing bacteria and sebum production for fewer breakouts and less oily skin. Third, it improves moisture content to minimize dryness, including flaking caused by eczema. And finally, it encourages the production of new skin cells, so your complexion gets brighter and softer over time.
The science
Since this formula does a lot at once, here's a breakdown of its four active ingredients:
Salicylic acid: This beta hydroxy acid (BHA) is a chemical exfoliant that gently sweeps away old skin cells to unblock pores and make room for new growth. The Facetheory toner uses a powerful amount of salicylic acid (2%), but is formulated to be suitable for all but the most sensitive skin types.
Lactic Acid: Lactic acid is an alpha hydroxy acid (AHA) that works well with salicylic acid. It helps break down the material that binds skin cells together, which can promote brighter, more even skin — especially if you have unwanted hyperpigmentation. This formula contains a gentle but effective 0.49% lactic acid.
Centella Asiatica: This botanical extract has both anti-inflammatory and moisturizing properties. It can help boost the production of collagen, which can make your skin feel bouncier and more hydrated. It's known as a great ingredient for soothing eczema, too.
Microbiome-Balancing Complex: This helps to balance your skin by minimizing acne-causing microbes and regulating sebum production so your skin is less oily. The result? Testers found a lower frequency of blackheads, whiteheads, and papules.
How to use Facetheory's Saliatica Toner T6
After washing your face, dampen a cotton pad with the toner. Then apply it all over your face and neck, avoiding the eye area. Leave it on without rinsing. That's it. (Though it's always a good idea to follow up with a moisturizer.)
When you first start, use it every other day to see how your skin reacts; some may experience a little irritation as their skin gets used to the actives. If your complexion responds well, you can apply it up to twice a day. Just be sure to wear sunscreen, since acids increase your skin's sensitivity to the sun.
All of that said, your skin care routine should be personalized to you. And while many people have had great results with this product, there's no one-size-fits-all solution for skin. For that reason, even though this toner is pretty affordable compared to many competing products, the brand still offers a 365-day money-back guarantee.
Who shouldn't use it?
According to the brand, you shouldn't use this toner if you're under 18 or if you're currently pregnant. You also shouldn't use it if you're allergic to aspirin or if you're extra-sensitive to chemical exfoliants. Finally, since alpha hydroxy acids can increase the chance of a sunburn, you shouldn't use this product if you're unwilling or unable to limit your sun exposure or use sunscreen.
What reviewers say
A clinical study of this product monitored the skin microbiomes of 19 volunteers. After 28 days, they saw up to a 57% reduction of blackheads and whiteheads. And according to the reviews, real shoppers are just as thrilled. This toner has earned an overall rating of 4.5 stars, and one reviewer wrote: "Please never stop making this product. I wasn't sure what to expect but I am so pleased. I've been using it for about two weeks. My redness has dissipated and my skin feels and looks so much smoother. It's not drying or irritating."
Another raved: "I can see results after 1 or 2 weeks of use! My skin [tone] is much more even and my pores much less congested. I suffer from large pores and an [oily T-zone, and] this toner works wonders for me. I can even go out barefaced now if I want."
While the low ratings are few and far between, one buyer noted a witch-hazel-like smell, while a few others didn't like the consistency.
Should you buy Facetheory's toner? (Or, tl;dr)
Facetheory clearly put ample work into creating a formula that exfoliates, hydrates, and balances all at once. While it's a newer product, the high ratings and rave reviews make it difficult to ignore. Salicylic acid treatments can often be very expensive, and this one comes in at under $20.
In short, this multitasking toner is worth a try if you have acne-prone skin, especially because it comes with a money-back guarantee.
Shop more Facetheory favorites