Fitness trainers say these cheap at-home workout products on Amazon are pure genius
Mic asked the experts which products they depend on most.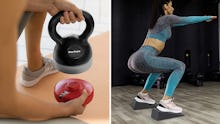 Amazon
We may receive a portion of sales if you purchase a product through a link in this article.
Everyone's been there: you pay for an expensive gym membership, convinced you'll use it constantly, and then you just... don't. There's no shame in that game — it can be difficult to find time and motivation. But, you definitely don't want to lose money on a service you don't use.
Instead of shelling out every month, you can just invest in these inexpensive at-home workout products; each one comes with a specific recommendation from a certified trainer, so you know it'll help you get the results you want.