Fitness trainers swear by these cheap at-home fitness products because they're effective as hell
These are great if you want to start up a new workout routine.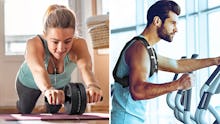 We may receive a portion of sales if you purchase a product through a link in this article.
Sometimes, exercising outside your house can be a challenge — whether you're in your yard or at a workout class. A gym membership can make it easier, but they're often expensive. And once you've paid, it becomes necessary to find time and motivation that may not be there. Bustle spoke to a number of fitness trainers who are intimately familiar with these challenges and got their top recommendations for at-home workout products.
From upgraded versions of classics like jump ropes and medicine balls to innovative finds like Pilates rings and slider discs, these tools can help you save time, money, and energy as you keep the endorphins flowing all winter long. You won't need to spend a fortune or travel far to keep moving and feel strong, and you'll likely want to use these products all year long.