This clever new cleaning tool is the long overdue upgrade for your old broom — and right now, it's on sale
This gadget just might just make you want to clean your floors.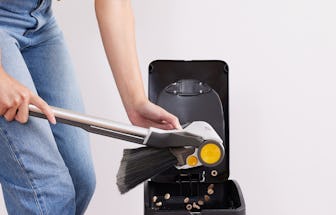 We may receive a portion of sales if you purchase a product through a link in this article.
Cleaning the floors is by far the household chore I dread most. It's just a gigantic hassle to haul out the vacuum or stoop down to coax dirt into the dustpan with a tiny brush. Enter the Flippr Sweep Cleaner, a genius new tool that works on both hard-surface floors and rugs. And it's currently on a buy one, get one 50% off sale with the code BOGO50. As a die-hard deal shopper with an interest in enabling my own housecleaning laziness, my interest was piqued — here's the scoop.
What Is The Flippr Sweep Cleaner?
Fast Facts:
Combination broom, brush roll, and dustpan
Works on both hard-surface floors and rugs
Weighs under 2 pounds
54-inch pole helps you reach under furniture with ease
One-touch debris release
Can be stored upright and out of the way
The Flippr Sweep Cleaner is designed for quick cleanups, performing as a broom, carpet sweeper, and dustpan — yet it weighs just 2 pounds. The broom bristles are angled for reaching into corners, and when you flip them horizontally, you can access the brush-roll sweeper. This brush roll pulls double-duty: Not only does it collect the debris you've just swept up, but it also works as a carpet sweeper, trapping dust and dirt on your rugs and storing it in the catch chamber. When the chamber is full, you press a single button to release everything into the trash.
The Flippr is non-electric, so there are no cords snaking around and no loud noises, which is helpful if you're looking for a no-nonsense, grab-and-go way to clean up that container of rice you just spilled (or those leftover sandwich crumbs, or the litter your cat tracked around the house, or — well, you get it). It also has a self-standing design, which means you can store it in the corner of the kitchen or laundry room for quick, easy access.
"I used to sweep and have little piles of dust in different sections that I would then have to come back to with my dustpan," wrote one reviewer. "[..] This product is a game changer because I can just switch the orientation and pick it right up.
What It Can't Do
The main drawback of the Flippr is that it doesn't have suction, so it won't replace your vacuum if that's what you regularly use for deep cleaning. And you'll need to empty the catch chamber into the trash regularly (though the one-button design makes this a pretty seamless maneuver).
Still, the Flippr may be the perfect tool if you're looking for an easy, low-maintenance way to keep your floors clean on the daily — and the current sale is hard to pass up.