Genius inventions you (& your dog) will wish you got sooner
Pet care just got a whole lot easier.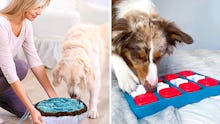 We may receive a portion of sales if you purchase a product through a link in this article.
When you form a bond with a beloved dog, your life is never quite the same again. And after adjusting to life with a canine counterpart, it can be impossible to remember a time before you had them around.
Of course, the blessings of owning a dog can come with some responsibilities that aren't quite as warm and fuzzy. Accidents on the floor, excessive barking, and run-ins with ticks or parasites can all put a damper on the time spent with our pets. When these issues are encountered, it can be hard to know just what to do.
Luckily for dog owners everywhere, Bustle has compiled a list of 30 items that will streamline those responsibilities and eliminate problems from canine anxiety to dog hair all over the sofa, so you can get back to spending time with your best friend.