30 genius things for dogs that are a pain in the ass
These products deserve a round of a-paws.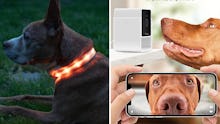 We may receive a portion of sales if you purchase a product through a link in this article.
Pet ownership can be an absolute dream; you get to go through life with a four-legged friend by your side, and you come home from work every day to an enthusiastic greeting at the door (seriously — we humans need to step our game up).
That said, taking care of a pup is a commitment since you'll be investing a fair amount of time and money in the well-being of a living, breathing animal. And, some dogs are more stubborn than others. Luckily, each of the items on this list will help you deal with many different issues your canine might have, from long nails to bad breath and everything in between. And, while they'll always be a "good boy" in your heart, there are also a few genius items that'll help their occasional not-too-pleasant behaviorisms.