Genius things that make having a cat way less gross
Your feline may be elegant, but that smelly litter box isn't.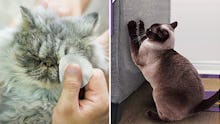 We may receive a portion of sales if you purchase a product through a link in this article.
There are definitely some perks of owning a cat that can't be beat. They don't require walks, they're self-sufficient, and their personal hygiene routine is admirable. That being said, there are also times when living with a cat can be, well, a bit gross — which is why I've rounded up some incredibly clever pet products on Amazon that do the dirty work for you.
From a self-cleaning slicker brush that removes tons of hair to an odor-nixing carpet and furniture spray, these are the best things you can own to keep your house clean and your cat happy.