Protect the Golden Globes piano player at all costs
Chloe Flower deserved exactly none of the hate she got during the awards show.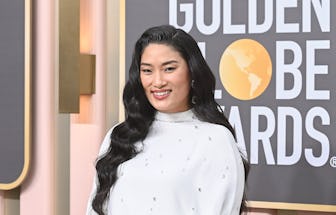 Gilbert Flores/Variety/Getty Images
If you've ever watched an awards show, you know acceptance speeches can get pretty heartfelt and sentimental — which is why it's so annoying the people giving them are unceremoniously interrupted by music meant to signal they've taken too long on stage. At the 2023 Golden Globes, a few celebrities got this treatment, and some of them — along with plenty of angry tweeters — seemingly pointed the finger at live pianist Chloe Flower for playing them off. Flower was shown on camera multiple times throughout the night, tickling the ivories with short instrumental renditions of popular TV and movie theme songs. She was not responsible for cutting off any speeches, but she took much of the heat for it nonetheless.
"Shut up please," Everything Everywhere All At Once star Michelle Yeoh, who won the Golden Globe for Best Actress in a Motion Picture Musical or Comedy, said with a laugh as the play-off music began. "I can beat you up. And that's serious." Though the camera remained trained on Yeoh, we did see the actress look to the side when she delivered those remarks. Yeoh didn't specifically mention Flower, but that didn't stop people on Twitter from assuming the pianist was on the receiving end of the jabs and blaming Flower for interrupting.
Colin Farrell and Austin Butler — who won Golden Globes for Best Actor in a Motion Picture Musical or Comedy and Best Actor in a Motion Picture Drama, respectively — were a bit more pointed. "You can forget that piano," The Banshees of Inisherin star Farrell said during his speech, while Elvis star Butler quipped, "You could at least play 'Suspicious Minds' or something."
The gripes directed at Flower — both on stage and online — reached enough of a fever pitch that the evening's host, comedian Jerrod Carmichael, clarified in real-time what was actually happening. "We're very lucky to have tonight, someone who is an incredible, incredible pianist, Chloe Flower," Carmichael said after the show returned from a commercial break. "People on Twitter are mad like she's playing people off. It's actually a track, just so you know. We're very lucky to have you. Chloe, thank you very much for being here."
Flower herself also took to Twitter mid-show to address the hate, writing, "I would never play piano over people's speeches!! I'm only playing when you see me on camera!" (She followed up with a Wednesday morning tweet confirming she's still a "forever fan" of Michelle Yeoh.)
Sure, the Golden Globes may be serious business — but can we, as a collective online presence, stop dogpiling innocent people who are just trying to do their jobs? The unsavory celebrity comments played a huge role in stoking the flames against Flower — though thankfully, plenty of people also came to her defense once Carmichael cleared Flower's name.
Then again, even if she was the one interrupting acceptance speeches, she would have just been doing her job, as many others pointed out. "All these celebrities straight up bullying this poor piano player she's just doin her job," one Twitter user wrote. The Hollywood Reporter critic Daniel Fienberg chimed in, tweeting, "The #Globes producers deserve ZERO credit for setting Chloe Flower up for abuse at this point. She's doing what they told her to do. The bloat of the show is not her fault."
Bottom line: The criticism against Flower was hugely unwarranted — and just plain mean — regardless of whether or not she was playing the notes that nudged celebrities off stage (Again: She wasn't!).
Even after all this Golden Globe drama, Flower was — and remains — an absolute icon. Not only is she a talented piano player, but she's also a skilled songwriter and producer. If you want to support Flower after all this nonsense, you can stream her latest single, "Golden Hour," on almost every streaming platform you can think of. Protect this woman at all costs!