35 gross mistakes you're making in your home & car
Your space is about to get a lot cleaner.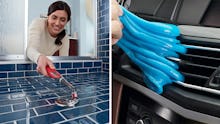 We may receive a portion of sales if you purchase a product through a link in this article.
When it comes to home and car upkeep, there are gross mistakes, and then there are really gross mistakes. For example, a gross mistake is letting trash build up in your vehicle, but a really gross mistake is letting a potato roll out of your grocery bag and under your seat where it sits for a couple weeks until it starts to smell really, really bad. (I once unwittingly let this happen.) Save yourself this kind of trouble and check out these disgusting home and car mistakes and their foolproof solutions
Now that I've shared one example from my own personal lowlight reel with you, I want to tell you that no matter the problem, there really is an answer out there. Best of all, nine times out of 10, the answer isn't expensive, difficult, or time-consuming. It just takes jumping on it — because like that potato, problems don't tend to get better the longer you let them fester... they tend to just get more problematic.
Don't just take my word for it, though. Read through this array of easy fixes for gross home and car problems.