Picky eater? Dietary restrictions? Here's why this meal kit service could be a game changer
I have a gluten allergy and my partner doesn't eat beef — this is what I found.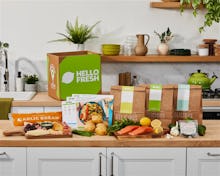 We may receive a portion of sales if you purchase a product through a link in this article.
I genuinely love cooking; it's the meal planning and grocery shopping that I can't stand. Needless to say, I'm one of the countless people who have switched to a meal delivery service and my life has been significantly easier because of it. Since early 2022, I've been subscribed to EveryPlate, which is owned by HelloFresh and touted as the affordable meal kit option — but since I have a gluten allergy and my partner doesn't eat beef, the meal options are sometimes limited, and I regularly find myself switching out my own ingredients to make the meals work for us. I often wondered if a more expensive meal kit was worth the splurge for preference settings, ingredient swaps, and better customization, and HelloFresh seems like one of the most obvious options.
FAST FACTS:
HelloCustom feature is now included in all plans and allows you to change, swap, or upgrade over 12 different sides and proteins each week
Choose from more than 30 menu options each week
Six plan categories to choose from, including vegetarian, low-carb, and super quick & easy
Most of the packaging is recyclable
How can I customize my meals?
Choose from 6 categories: Start by telling HelloFresh your food preferences. You can choose between six categories, checking all the ones that apply: Meat & Veggies, Veggie, Family Friendly, Fit & Wholesome, Quick & Easy, and Pescatarian. Then customize your plan size — unfortunately for me, gluten-free wasn't one of them, likely because all ingredients are produced in a facility that processes wheat.
Choose from 30+ meals each week: Choose your meals for your upcoming delivery via HelloFresh's online menu, which, according to the brand, offers more than 30 options each week. Thanks to a new feature, you can now swap out sides and proteins to suit your needs, too. (I do love the transparency here, as HelloFresh allows you to browse the upcoming menus before you even sign up.)
Ingredient swaps: If you have food sensitivities or dietary preferences, HelloFresh's new HelloCustom feature is now included in all plans. It allows you to change, swap, or upgrade over 12 different sides and proteins each week, so you can more easily avoid certain ingredients.
My experience with HelloFresh
When I made the swap from EveryPlate to HelloFresh, I found that the interfaces and types of offered meals are actually pretty similar. The primary difference is the number of meals and ingredients on the menu that you can choose from each week, which makes HelloFresh significantly easier for those with sensitivities or dietary limitations. For example, for the week I'm writing this, HelloFresh has 45 available options on the menu, which is almost double the choices of EveryPlate.
Secondly, HelloFresh offers a lot more flexibility when it comes to swapping ingredients. You can often swap out ground pork for ground beef or ground turkey, or opt for broccoli or asparagus over carrots. Sometimes, HelloFresh even gives you the option to swap out regular rice for cauliflower rice, and since I feel my best when I limit my intake of carbs, this is a feature I really appreciate and haven't seen anywhere else. You can also typically add a source of protein (like shrimp or grilled chicken) to salads, pastas, and other formerly vegetarian dishes (though it costs a little more).
The swaps do come with an up-charge, usually a few dollars per ingredient, and not all of the meals on the menu allow for swaps. But up-charges and limitations aside, these swaps are the sole reason I can make a meal kit service work for my no-beef, minimal-gluten, and low-carb household. In the future, as the list of available ingredients grows, I'd love to see a few simple tweaks that would broaden the menu even more (like a corn tortilla rather than solely flour, or lettuce wraps in place of buns, as these small swaps would allow me to order most of the tacos, burritos, sandwiches, and burgers on the menu, too.)
What if you have serious allergies?
I don't have Celiac disease, so cross-contamination isn't an issue for me. Neither are foods with trace amounts of gluten, like soy sauce or certain salad dressings. That said, if you have serious allergies, HelloFresh is likely not the best option. The brand states that all ingredients are "produced in a facility that processes milk, eggs, fish, shellfish, tree nuts, peanuts, wheat, and soybean." However, all of the recipes disclose their primary allergens, which may be helpful for those with less serious sensitivities.