How to look good with as little effort as possible, according to experts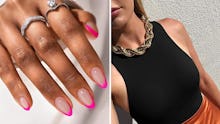 Amazon
We may receive a portion of sales if you purchase a product through a link in this article.
Like a lot of people, I love efficiency. If I can do something in less time and with less effort, I'm all about it, and that definitely goes for my beauty routine and my wardrobe. In short, when something makes me look way better with almost no effort, I can get ready faster and move on to other things.
That said, tons of products promise to make your life better, easier, and more efficient, so how do you narrow down the ones that actually live up to the hype? Easy: Ask the experts. For this article, Mic got in touch with the people who make their livings by helping people look their best — think makeup artists, hair stylists, style coaches, and fashion stylists.
Since time is money, these experts are certainly incentivized to do their best work as fast as possible, and below, you'll find the tools they use to do exactly that. According to the pros, this is how you look better in as little effort as possible, so you can speed up your routine without making any sacrifices.