If you have trouble sleeping, you'll probably love these 42 things on amazon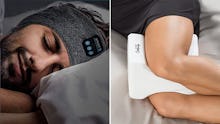 A good night's sleep has countless benefits for our well-being. It may strengthen our immune systems, improve our mental health, and help us focus. Some nights, however, stress or restlessness can make it feel nearly impossible to drift off to dreamland. Luckily, there are all sorts of relaxing products on Amazon that are super effective in helping you get some much-needed shut-eye.
Figuring out the root of your sleeplessness is the first step. Are you getting uncomfortably hot at night? If so, you should check out this memory foam pillow infused with cooling gel and this blanket made with bamboo fibers that naturally regulate your body temperature while you sleep. Or maybe you're someone who — because of work or travel — has to catch some zzz's during the day. While it can be tricky to fall asleep when the sun is still out, these fan-favorite blackout curtains can drastically reduce the amount of light in your room, and this cushioned eye mask can likewise make it easy to get some rest, whether you're at home or on a plane.
Sometimes, it's just a matter of setting a soothing ambiance before bedtime. A few spritzes of lavender-scented pillow spray or a white noise machine that plays calming nature sounds can work wonders. Below, I've rounded up more awesome Amazon products that help you fall asleep. They boast thousands of glowing reviews, so you can feel confident that they really work.
We only recommend products we love and that we think you will, too. We may receive a portion of sales from products purchased from this article, which was written by our Commerce team.