35 Things Under $35 That Help You Get Much Better Sleep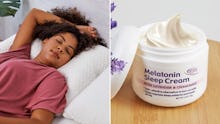 Amazon
Getting good shut-eye isn't always easy, and feeling sleep-deprived can completely ruin a day. If you have trouble falling and staying asleep, you're certainly not alone. Fortunately, there are plenty of products under $35 that can help you sleep better — and you can find a ton of them on Amazon.
If you occasionally have trouble falling asleep, you might want to try a tea, gummy, or supplement that incorporates ingredients like chamomile, lemon balm, valerian root, and lavender to help you unwind. A melatonin-infused product might also be helpful — studies have shown that it can help improve sleep quality. Or, if you're looking for a way to soothe achy muscles or physically relax, an acupuncture mat or massage slippers that stimulate pressure points might help.
Temperature-regulating bedding can be a great option for keeping you cool as you sleep on warm nights. A new pillow might seem like a small investment, but it's possible to find great options that won't break the bank. Whether you prefer a plush, cushiony feel or firm support, you'll find pillows in all shapes and sizes. Not sure exactly how fluffy of a pillow to get? Consider a pillow stuffed with shredded memory foam filling that you can remove or add until you find the right fit.
If light or noise keeps you awake at night, products like blackout window treatments or a sleep mask can help. If you're sensitive to sounds such as snoring, street sounds, or noise from roommates or family members, consider purchasing a pair of earbuds or a white noise machine to help drown out background noises.
But there's plenty more to discover. Read on to check out 35 products that can actually help you get better sleep when you're on a budget — all of which Amazon reviewers have reportedly tested and loved.