If you like awesome sh*t, you'll love these clever things that solve so many annoying problems
Bid farewell to everyday frustrations.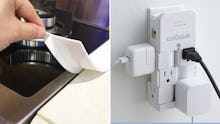 We may receive a portion of sales if you purchase a product through a link in this article.
The more I've done this thing called "adulting," the more I realize just how many annoying problems can pop up at home. From a clogged sink drain to dirt tracks in the hallway, every day brings on new challenges. That's why I love these clever home products — they make your life so much easier, with minimal effort on your part.
Chipped paint on the walls? Use these refillable brush pens for mess-free touch-ups. Chair legs scraping your hardwood floors? These silicone furniture covers act as a shield to prevent damage. Below, you'll find all sorts of awesomely genius things you'll wish you discovered sooner.