If you want your cat to be happier & less pissy, experts swear by these genius things
It's easier than you think.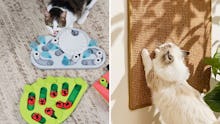 We may receive a portion of sales if you purchase a product through a link in this article.
If you're wondering how to curb your cat's sassy behavior and make them a little happier, it turns out, there are several expert-approved ways to fulfill your kitty's underlying needs and promote a calmer disposition. From herb-infused treats to cozy lounging spaces and fun toys, you'll find plenty of genius items to pick from, and they've all received high ratings from fellow cat owners.
Scroll on to see all the easy ways you can help your cat be a little less pissy.