I'm a shopping researcher & here are the cheapest, most clever home upgrades on Amazon
These are the picks that are worth your pennies.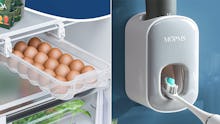 We may receive a portion of sales if you purchase a product through a link in this article.
I'll be honest. I love researching and writing about home goods. You see, I'm a firm believer that your living space should be your sanctuary — a place where you can truly unwind and enjoy yourself. There are so many clever home upgrades out there to make that a reality — and they won't break the bank.
Whether it's a luxuriously soft throw blanket that warms up your sofa or a sophisticated white marble cutting board, this list is full of wallet-friendly products that give your home an upscale feel. You'll also find plenty of genius, money-saving home hacks, such as a rainfall showerhead that increases the feeling of your water pressure —while reducing your water consumption — as well as a set of garden stake lights that run on solar power. Don't waste your time sifting through hundreds of products to find the best ones — I've done the hard work for you.