I'm a shopping researcher & here are 50 of the coolest most-wished for products this year
A device to never lose keys again? Yes, please.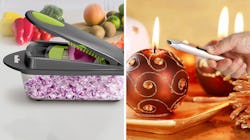 We may receive a portion of sales if you purchase a product through a link in this article.
In my line of work, I see a lot of products. My team and I spend our days not only researching and writing about products to curate shopping guides but also pouring over shopping data that tells us what people are buying. So, if you're in a rut when it comes to presents, I'm here to give you an inside peek at some of this year's coolest, most coveted products.
Unsurprisingly, devices that make our lives more convenient are on the list; you'll find a smart plug that lets you control your lighting with your voice or via an app on your phone and a Bluetooth tracker that ensures you never lose track of your keys. There are plenty of low-tech pleasures on this list too, many centering around the kitchen. Take, for example, this gorgeous Dutch oven that any home chef would love. Or, if neither high-tech or low-tech items suit your gift-giving desires, try this super meaningful option: the 23andMe ancestry kit. It's a present that's truly unique to the recipient and has the added benefit of delivering potentially life-changing information. That's not just breaking out of the rut — that's running an award-winning sprint.
Regardless of what you choose from this list, you're sure to get a winner, so get shopping.