The definitive list of Amazon's best gifts under $30
Knock out that gift list here.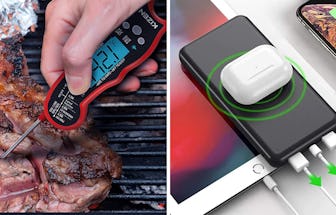 We may receive a portion of sales if you purchase a product through a link in this article.
Between work deadlines, travel, and keeping up with life's many (hectic) tasks, it can be hard to set aside time to actually buy presents for your family and friends when holidays and special occasions roll around. Luckily, Amazon is loaded with awesome, budget-friendly gifts that cover every person on your list. And believe it or not, all of the items you'll find here are just $30 or less.
For the home chef in your life, there are kitchen gadgets that will inspire them to expand their culinary horizons. This sleek bamboo cutting board is perfect for chopping up veggies and meats, and it also doubles as an elegant charcuterie board. Also, so many meals can be enhanced with fresh herbs like thyme, cilantro, and sage, and with this indoor herb-growing kit, your loved one can have their own steady supply.
Certain people in your life can be tricky to shop for; after all, what do you get for the person who says they don't want anything? That's why this list is filled with plenty of practical finds that make day-to-day life easier. A flexible sofa arm tray provides the perfect spot for a drink while you're watching TV on the couch, while these elastic no-te shoelaces can transform any pair of sneakers into slip-ons.
This definitive list of Amazon's best presents includes plenty of ideas for fitness lovers, beauty fans, and foodies alike. There are even eco-friendly picks that give the gift of sustainability. Happy gifting.