Legitimately amazing things under $30 on Amazon you never knew existed
These affordable items make life so much easier.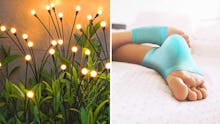 Amazon
We may receive a portion of sales if you purchase a product through a link in this article.
Do you have a set of packing cubes for efficient travel? How about solar garden lights to illuminate your backyard at night? If you said no, keep scrolling to discover 50 of the most fun and effective products on the market you never knew you needed. And even better, they all happen to be $30 or under.
These legitimately amazing gadgets will help you streamline your daily routine and smooth out the wrinkles in your schedule that get in the way, from stubborn grout in your tiles to pet hair all over your furniture before a dinner party; at least one or two of them are sure to put a smile on your face.