The creators of Brooklinen spent 7 years researching pillows. This is what they came up with.
It comes with a 365-day trial period.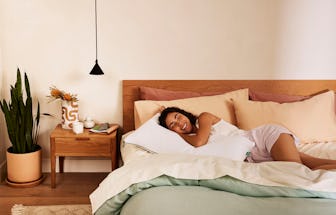 Marlow Pillow
We may receive a portion of sales if you purchase a product through a link in this article.
I've been writing about and reviewing products for almost a decade now, but my most covered topic, without question: The best pillows the internet has to offer. The market has no shortage of supposedly cooling, supportive options, but whether or not they actually work is a whole other question. The creators of the Marlow pillow (the same team behind Brooklinen, the "internet's favorite sheets") spent seven years researching cooling, adjustable technology before they launched into development, and the brand is so sure you'll like it, they offer a 365-day free return trial period.
FAST FACTS:
Easily adjustable for a range of sleeping positions with two zippers that change the loft
Cooling features including gel-infused foam, a cotton sateen shell, and ventilated mesh gussets
Filled with a blend of memory foam and microfiber for support
365-day free return trial period
2-year warranty for defects
Features worth noting:
Cooling qualities: Before development, the brand surveyed thousands of people on what they're looking for in a pillow, and cooling was a top priority for many. Marlow is filled with gel-infused memory foam, covered in a crisp cotton-sateen shell (designed to wick away moisture and resist bacteria growth), and has ventilated gussets underneath the adjustable zippers to boost airflow.
Adjustability: Most adjustable pillows require that you add or remove the fill in order to change the loft. It's effective in terms of customization, but it gets messy and requires a bit of effort. Marlow, on the other hand, has two zippers — one on either end. (They don't open the pillow to reveal the fill; they just expand the pillow to relieve the pressure on the fill, making the pillow softer when unzipped.) Leave both zippers closed for maximum firmness, unzip one for a happy medium, and unzip both for a soft, plush feel.
Fill: Last but not least, this pillow is filled with an 80/20 blend of gel-infused memory foam and microfiber. It's designed to cradle the neck and support the spine regardless of your sleeping position, especially when you adjust the zippers accordingly to change the density.
What reviewers and an editor have to say
On the Marlow site, more than 1,000 reviewers have given the Marlow pillow a 3.9-star rating overall. "Awesome comfortable pillow. I was afraid I wouldn't find one that works for stomach / side sleepers and this is it!" one five-star reviewer wrote. While another wrote: "Neck pain is gone. Such a comfortable pillow!" Those who didn't like it often found it too firm or not as cooling as expected.
BDG senior commerce editor Jen Fiegel owns the Marlow pillow and also has great things to say about it: "My partner was gifted two Marlow pillows a year ago, and they're still bouncy and supportive despite being slept on every night. He loves them so much, the only time I get to sleep on one is when he's out of town — but I take full advantage when that happens (despite having my share of fancy pillows, most of which cost more than the Marlow pillow). He's a back sleeper who runs hot and while I'm a side sleeper who is constantly cold, but they work for both of us. I should probably just go ahead and just buy myself a couple of my own."
What else does Marlow sell?
To boost the pillow's cooling features and protect it from stains, Marlow also offers a Cooling Pillow Protector made from long-staple cotton, nylon satin, and poly microfiber. It's woven into a moisture-wicking texture designed to protect against dust, sweat, and bacteria, and it has a zipper to keep your pillow in place.