22 mistakes you don't realize are causing your dog to act sh*tty that are actually easy to fix
We asked experts for their best solutions.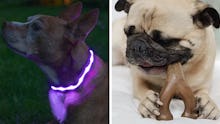 There is so much to love about humanity's best friend, it's hard to choose where to start. The cuteness factor is definitely up there, especially when it comes to wee puppies. Who hasn't looked into the eyes of a small, perfect, little pup and not immediately fallen in love? Or what about the never-ending love and attention they seem to give? There's no better feeling than walking into your home after a long day and being greeted with unconditional love from your favorite furry friend. That doesn't even begin to account for the unique personalities that make them so special.
One thing people often overlook is the fact that a dog isn't just a toy or an accessory, but is in fact a new family member that needs training to learn how to be a cohesive part of the pack. As the owner, it's up to you to help teach, train, and guide your pooch along the way. You don't have to worry about going it alone, though. There are plenty of training tools and toys that can help you turn your pup into the perfect dog (well, your perfect dog).
Check out our list of training tips and tools highly recommended by industry professionals. Whether you're a first-time dog owner or are a seasoned vet, there's something for everyone and every dog on this list.
We only recommend products we love and that we think you will, too. We may receive a portion of sales from products purchased from this article, which was written by our Commerce team.